Responsibilities of home health nurse
What is homehealth aide?
A home health aide (HHA) is a trained professional who provides assistance and support to individuals who require help with their daily activities due to illness, disability, or aging. Home health aides typically work in the client's home or in a residential facility, and they provide personal care services such as bathing, dressing, grooming, and toileting, as well as assistance with mobility and medication management.
Private home care duties can be divided into the non-medical and medical care services provided by a caregiver or personal assistant to an individual who needs assistance with activities of daily living (ADLs) in their home.
However, some common private non-medical home care duties include:
Personal care: Private home care workers can assist with bathing, grooming, dressing, toileting, and other personal care tasks.
Mobility assistance: Home care workers can provide assistance with mobility, such as transferring from a bed to a wheelchair, and help with walking or exercise.
Meal preparation: Home care workers can prepare nutritious meals and snacks for clients and help with feeding if needed.
Light housekeeping: Home care workers can assist with light housekeeping duties such as laundry, dishes, and tidying up.
Companionship: Home care workers can provide socialization and companionship to clients, including engaging in activities such as playing games, watching TV, or going for walks.
Transportation: Home care workers can provide transportation for clients to appointments, errands, or social outings.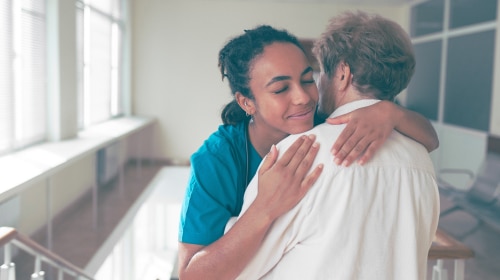 What are the responsibilities of a home care nurse?
The responsibilities of a home health nurse vary depending on the needs of the patient and the services provided by the home health agency. However, some common duties of a home care aide include:
Assessing the patient's health status: The private home health nurse will conduct a comprehensive assessment of the patient's physical, mental, and emotional health to determine their care needs.
Developing a care plan: Based on the patient's assessment, the home health nurse will develop an individualized care plan that outlines the specific care services the patient will receive.
Providing skilled nursing care: The home health nurse will provide skilled nursing care to the patient, which may include wound care, medication management, and monitoring vital signs.
Educating the patient and family: The home health nurse will educate the patient and their family members on their health condition, medications, and self-care techniques.
Coordinating care: The home health nurse may work with other healthcare providers involved in the patient's care, such as physical therapists, occupational therapists, and social workers, to ensure a coordinated approach to care.
Documenting care: The home health nurse will document all care provided to the patient, including assessments, interventions, and patient responses.
Monitoring the patient's progress: The home health nurse will monitor the patient's progress and adjust the care plan as needed to ensure the patient's good healthy feeling.
Overall, the role of a home health nurse is to provide high-quality nursing care to patients in their homes, helping them to manage their health conditions and improve their quality of life.
Want to work as care assistant in NY?
If you are interested in working as a home care assistant in NY, Angel Care, Inc. can provide you with more information. Please feel free to contact the team today or visit our home care assistant jobs page to explore our current openings throughout NY. Don't hesitate to contact us by phone at 917-507-7500 or by e-mail at info@angelcareny.com to learn more about our services.
Subscribe
Join our newsletter to keep up with the latest Angel Care updates.